Quality and Environmental Policy

SAN-AI makes the following declaration regarding development and improvement of its Quality Management System.
1. In addition to having a strong recognition of the importance of satisfying customer's needs and regulatory and legal requirements, we will convey that importance to all employees, and ensure the full participation of employees in achieving these requirements.
2. We will establish quality policies and quality goals and conduct sustained efforts to achieve these.
3. We will conduct management review and strive for the ongoing improvement of quality management.
4. To achieve the quality policies and quality goals, we will appropriately deploy the necessary management resources.
Quality Policy:
"Aiming to establish a production system that matches the needs of customers"
Obtained ISO9001 certification (Neyagawa Factory, Neyagawa No. 2 Factory, Tondabayashi Factory)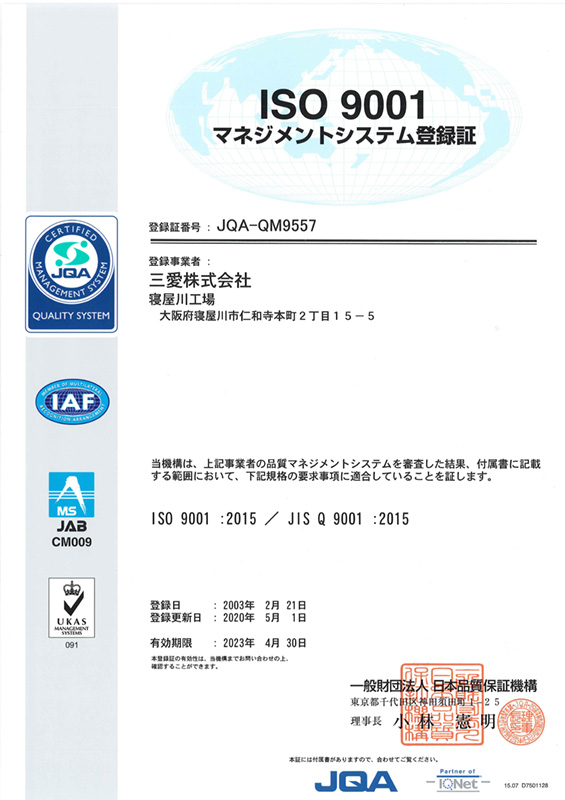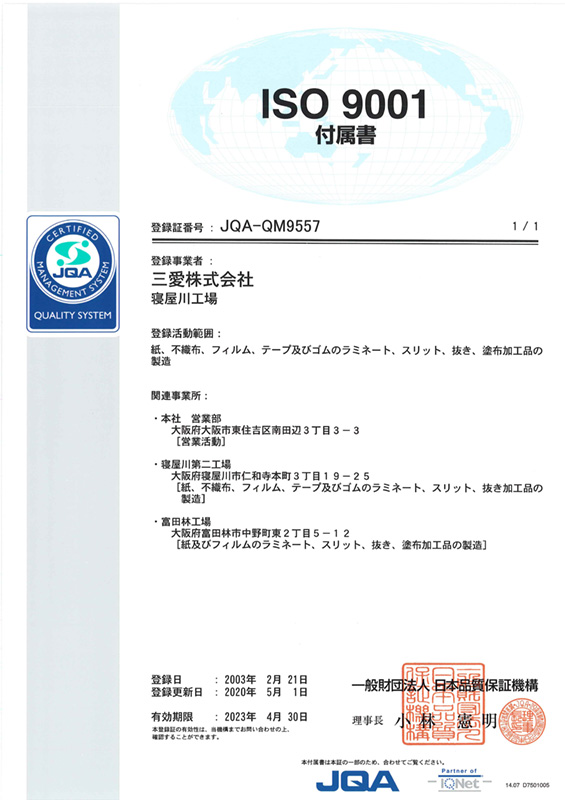 To supply the high-quality products that are expected by customers in a timely fashion, we will operate quality management that incorporates the necessary management resources and conduct planned and efficient activities.
・Promotion of customer satisfaction
・Quality control and improvement
・Enhancement of technical capability and productivity
QMS Scope of Application
Name of organization

SAN-AI CORPORATION (Neyagawa Plant/No. 2 Plant/ Tondabayashi Plant/ Headquarters Business Office)
Addresses

2-15-5 Niwajihonmachi, Neyagawa, Osaka Prefecture

3-19-25 Niwajihonmachi, Neyagawa, Osaka Prefecture

2-5-12, Nakanochonishi, Tondabayashi, Osaka Prefecture

3-3-3 Minamitanabe, Sumiyoshi-ku, Osaka
Human elements

Employees, part-time workers
Target Business activities

Design, development and manufacture of laminated, slit, sized and punched products made from paper, nonwoven cloth, film, tape and rubber
Basic Environmental Philosophy

As a specialist paper processing maker, we will mitigate environmental loads in our paper and film slitting facilities. We will strive to contribute to environmental preservation through conducting ongoing improvement and prevention activities, and we will comply with environmental legislation and regulations and conform to other requirements that are recognized by the company.
Environmental Policy
Obtained ISO14001 certification (Neyagawa Factory, Neyagawa No. 2 Factory, Tondabayashi Factory)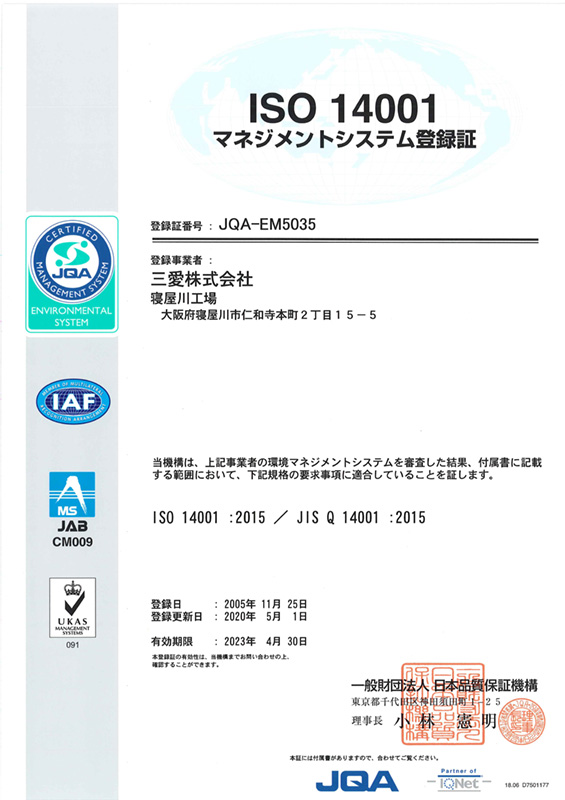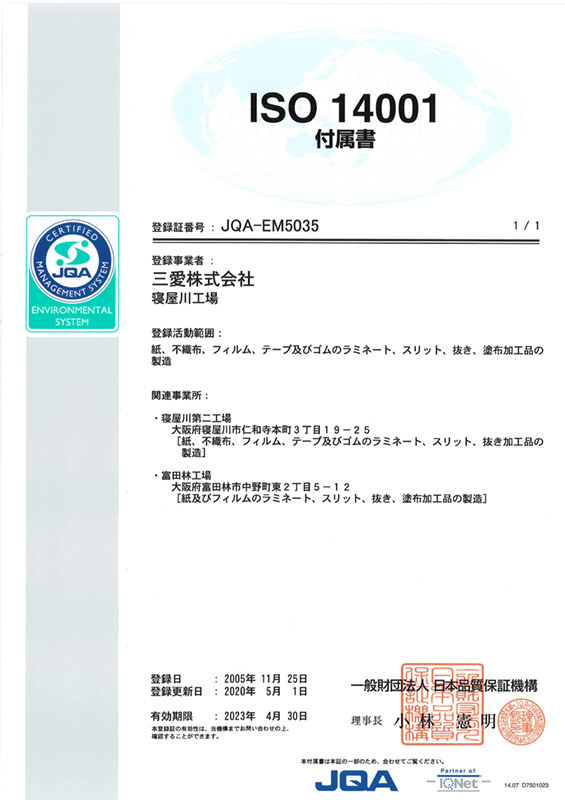 1. Compliance with laws … We will comply with environmental legislation, ordinances and other requirements that the company consents to.
2. Prevention of pollution … We will set objectives and goals and conduct improvement activities with a view to mitigating environmental loads in consideration of the environmental impacts arising from our corporate activities.
3. Environmental protection … We will actively participate in environmental preservation activities and strive to contribute to and live in harmony with the local community.
4. Continuous improvement … We will implement internal audits and maintain and improve the Environmental Management System with a view to actively promote environmental protection.
5. Information dissemination and disclosure … We will disseminate this Environmental Policy to all employees to ensure they understand and implement it, and we will also disclose it outside of the company.
EMS Scope of Application
Name of organization

SAN-AI CORPORATION (Neyagawa Plant/No. 2 Plant/ Tondabayashi Plant/ Headquarters Business Office)
Addresses

2-15-5 Niwajihonmachi, Neyagawa, Osaka Prefecture

3-19-25 Niwajihonmachi, Neyagawa, Osaka Prefecture

2-5-12, Nakanochonishi, Tondabayashi, Osaka Prefecture
Human elements

Employees, part-time workers
Target Business activities

Cutting and processing of paper, film, and nonwoven fabric