Philosophy
ひとを愛し
しごとを愛し
まことを愛す
Greetings
I am sincerely grateful for your patronage and good offices.
Ever since the foundation in 1964 as a specialist paper processing maker, our goal has always been to endlessly pursue ease of use and possibilities in paper while considering the convenience of paper from the perspective of customers.
Having departments for conducting the slitting, flat paper processing, laminating, and punching , waxing of wet towels and food paper, and sale of paper products, etc., we strive to remain one step ahead of the field and contribute to society through conducting technological innovation and improving equipment in step with the times.
In recent years, we are responding promptly to demands from the IT sector for the processing of paper and film used as components in electronic devices and components.
We currently have plants in Neyagawa City, Tondabayashi City, and Shikoku-chuo City, and all facilities are equipped with cleanrooms and functional production systems that can respond immediately to the needs of the age.
We have also introduced state-of-the-art equipment and a logistics setup enabling us to respond to orders including for large volume, short delivery, and small lots while delivering reliable products just-in-time.
Furthermore, in the area of quality assurance, our Neyagawa and Tondabayashi plants have acquired ISO9001 and ISO14001 certification and are aiming to realize even better quality.
SAN-AI is committed to enhancing the technical capability of employees and making even greater improvements with a view to supplying high-quality and reliable products that are easy for customers to use.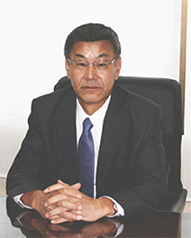 SAN-AI CORPORATION
Representative Director Seigo Hoshikawa