Punching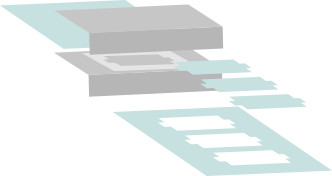 Punching entails pressing a punching die (hereafter, "die") against the target material and thereby cutting it into various shapes. Unlike slitting and cutting, this type of processing can make curves and distorted shapes, punch holes and conduct various other kinds of products.
We are working on various industries. For example, electronic fields and in-vehicle fields related to "5G" and "EV conversion", various materials required for "deplasticization" and "decarbonization", as well as medical fields and miscellaneous goods / daily necessities fields.
Punching methods

Punching is carried out by two main methods.

(1)Method which entails clamping and punching materials between a die and a straight base.

Etching die: The unnecessary portion of die material is melted, while the remainder is used to make the base section and blade sections.
Thomson die: Grooves are carved using a laser in a plate made from timber or resin, and blades are built into the grooves.
Sculpting die: A lump of metal is carved by cutting, etc. to make the base section and blade sections.

Using such dies, it is possible to conduct full-cut processing, in which all layers are cut in the direction of thickness of the material, or half-cut processing, in which only desired layers are cut out of structural material comprising two or more layers.

(2) Method which entails clamping and punching materials between 2 die.

A die composed of a punch (protrusion) and die (hole) is used.
One side of the base material is made into a protrusion, and the other is formed to make a hole having the same shape as the protrusion, then material is sandwiched from up and down (the die part is fixed, while the punch die moves up and down). Metal dies cannot perform half-cutting; hence they are used for full-cutting only.

Different types of dies have respective merits and demerits; hence, dies selection, die material, blade tip angles, etc. also change according to the materials` thickness, size, precision of dimensions, the processing equipment, the removal of punched product parts following the punching, the lot and other conditions. Moreover, different types of dies are sometimes combined to leverage the respective merits, while in cases of product specifications that cannot be made with a single punch, it is necessary to conduct multiple punching processes to complete the product.

Punching in SAN-AI

SAN-AI can perform punching of roll materials and sheet materials.
The processing environment includes a general environment and clean room, which can be used according to the materials being processed.

Pattern 1 (Roll processing)

The target materials are set as a roll in the machine (feed shaft), and from there they are fed into the press unit, where punching is carried out by the punching die.
After punching, the materials are once more rolled up and can be finished either as a roll or a sheet.
In case of products that cannot be completed in a single process, the rolled materials are once more set on the delivery shaft; a separate die is fitted, and separate processing is conducted. By repeating these operations, it is possible to implement the necessary number of processes any number of times until the products are finished.
It is also possible to set and wind off multiple materials before and after the press unit, thus making it possible to combine and punch various materials or wind materials while peeling off the unneeded parts. This allows us to make products ranging from single structure items to multiple layered items comprising 4 or 5 layers.

Pattern 2 (sheet processing)

The target materials are set as sheets in the machine (table).
The table carrying the material slides underneath a set die. After that, the die moves up and down to conduct punching, after which the table slides back. From a single sheet of material, it is possible to make a single product or 20 or 30 products or more (multiple processing). In such cases, products can be made by using a die that is designed and made to conduct multiple processing, or a single-processing die can be used to punch the same sheet of material numerous times while shifting the position each time.
The type of die is selected upon taking the quality of products, cost and productivity of dies (cost of products) into consideration.
Unlike Pattern 1, since there is no mechanism for affixing and peeling materials, it is necessary to conduct such operations in the processes before and after the punching if they are needed.
SAN-AI also has equipment that can perform punching while conducting image recognition using a CCD. This equipment is used in cases where it is necessary to punch out specified positions in materials that carry printing or patterns, etc.
SAN-AI's Punching Machines